In the year 1997 I got my first Dandie Dinmont Terrier on the recommendation of Sheila Linter. It was a stroke of good fortune because I looked for a breed which blend with my seven years old Golden Retriever. Both dogs made a perfect team.

The Golden diseased on cancer in the age of twelve years and so I decided to add a young Dandie puppy. This puppy gave the Golden more quality of life and he lived 13 more months. The three dogs were very good fellows. Teariness was great after his death, the Dandies missed him.


2004: Golden Retriever Ptarmigan von Mill Lane, Brandy and Oberon
on and in the river Rhine in Bonn

End of 2004 we moved house, from Bonn to the area of Lake Constance. I was then the proudly owner of two mustard dogs, breed by Helga Birkicht, kennel "vom Parkwald" and a pepper bitch from Susan Benkö, Hungary, kennel "Ibolya Koezi". In addition I got a second mustard puppy bitch Marylou from the kennel "German Dandies'" from Manfred Rosenbaum.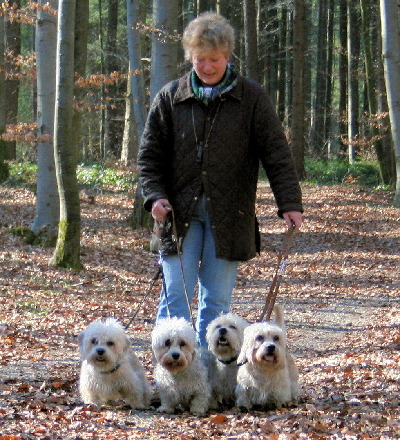 2006: My fourDandies - Marylou, Nessy, Oberon
and Brandy and myself.

In April 2009 we got our first own Dandie-puppies in my Kennel "von Otterswang". The mother is Nessy. We kept one pepper-colored girl "Antonia von Otterswang".


July 2009: Antonia von Otterswang, three months old

After Oberon vom Parkwald has died in December 2008 we are now again four Dandies.


July 2009: Sun-bath at the Lake Constance
Marylou, Nessy, Antonia und Brandy


At the picture on the very top you see the church from Otterswang with the view towards the Alps.